new fat chunk!
on
2009 June 18
at
2:43 pm
Yep, the new fat chunk anthology by slg and the tireless jamie smart is upon us! and yes, once again i have been permitted to spew brain-flub across a couple of pages! anyway, in jamie's own words: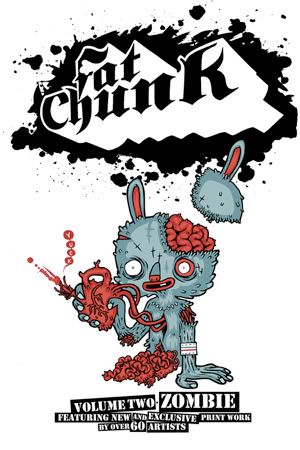 "Fat Chunk Volume Two – Zombies is out now! It was meant to be delayed till next week, but people are buying it from stores already, so lets take that as a good sign!
Fat Chunk collects together artists from all over the world, from well-known comics titans to fresh new webcomic talent to urban toy designers, and everything in between, and it slaps them all together in a tidy little digest-size anthology! Volume Two – Zombies adds a little rotting flesh to the mix as a variety of artists do their take on the bumbling undead. With over SIXTY artists filling just under 140 pages, you're sure to find some of the artists you love and discover new ones!
Artists involved in this issue include Aaron Alexovitch, Pete Underhill, Jon Burgerman, Marc Ellerby, Thomas Boatwright, Sarah McIntyre, Nelson Evergreen, and oh fuck FAR more than I can mention here.
Published by SLG Publishing, available to buy from your local comic shop (Diamond code APR090632), book shop, or from amazon etc! We're only a humble book trying to promote people's art, PLEASE spread the word and support Fat Chunk! (check out all the details at www.fatchunkcomic.com)
Thanks yous!
Jamie
ps. to promote the book, every day for the next week I'll be exclusively posting up some of the work inside! Check Fumblog.com"